Concrete Solutions to Increase the Value of Your Home
February 16th, 2015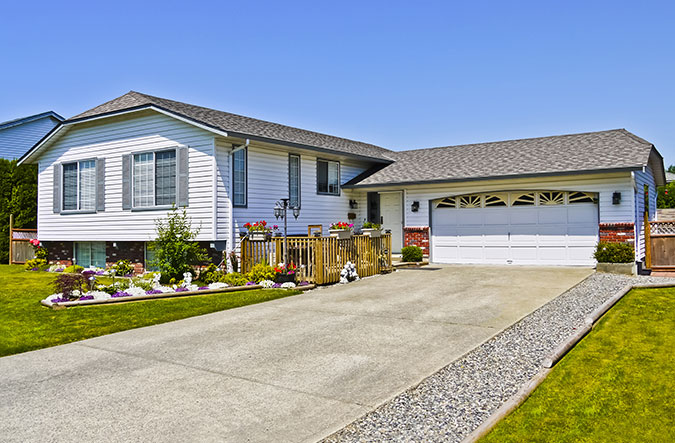 A lot of homes have concrete surfaces that have been there for many years, and may be starting to crack, become dull, or are getting damaged. People often leave these surfaces not knowing what to do with them. However, there are some great options that will not only fix and complete your home, but can also increase the value of your home dramatically.

The following idea's are our favourite ways to enhance the concrete on your property and make it like new.
Concrete resurfacing – Spray on concrete is great for many applications including driveways, courtyards, and pathways. Spray on concrete resurfacing is a process using a special cement coating that goes over the top of old or new concrete to create a new finish. There is a wide range of stencils, designs and colours to choose from, to give you all the options possible to get the effect that you desire. This type of resurfacing can make your concrete surface three times stronger, and can even add an additional benefit of giving the surface great slip resistant properties.On average it costs $12,000 – $15,000 to replace a driveway, but only $2,000 – $3,000 to resurface one. And while replacing the driveway completely may give you a return on your investment, resurfacing your driveway will still give your home a beautiful finish that will add more value for your investment.
Stamped concrete driveway – Your driveway needn't be a boring concrete area for the car to simply drive on. A stamped concrete driveway is a process that can allow you to create different patterns into freshly poured concrete. This can make your driveway completely customizable, creating fancy designs right through to a family crest. Colours can be added in to give your home even more of a personal touch.Different shades of colour have the ability to make your driveway appear to be reminiscent of red brick or riverstone. The designs range from a very traditional brick look right through to a more modern look, depending on what you want. You can also just stamp certain areas for a focal point of your driveway if you do not want the whole driveway to be stamped.However, it's important to note that stamped concrete for your driveway is only possible if you do a cement overlay on top of your existing driveway, which will add several centimetres of height. If your driveway needs to stay the same height, then you would have to tear up the existing driveway which can prove costly and time consuming.
Stamped concrete patio – Just the same as a stamped concrete driveway, you may wish to do a similar project with a concrete patio. The best part about stamping a concrete patio is that these patios are usually in the back yard or surrounding a pool. This gives you a little more room to move creatively, as it is not a huge focal point in the front yard like a driveway.Many people like to get very creative with concrete surrounding their pool. With stamping, it is even possible to recreate the appearance of wooden flooring surrounding your pool without the worry of rotting wood.
Interior concrete flooring – It may not have crossed your mind before, but concrete flooring as an interior choice may not be a great choice for your home. In fact, it can be the perfect solution. After all, concrete doesn't have to be just plain old boring and grey. The most popular areas for concrete flooring in a home are in the kitchen, entryways, living areas, and hallways.Polished concrete has been used in commercial buildings for years, but it's only in recent years that homeowners have decided to utilise this technique inside homes. Coloured polished concrete can really give you endless amounts of ideas for decor options.Another idea for interior concrete flooring is scoring. Scoring requires the use of saws to make shallow cuts into the concrete. These saws can cut into the concrete patterns such as diamonds or triangles, and can make your concrete look like tiles or pavers.
Concrete countertop – If you want to upgrade your kitchen but not spend a huge amount of money on a kitchen benchtop, you may want to consider installing a concrete countertop. These can be completely customized, right down to colours and textual features. So long as they are properly sealed, they are then non-porous as well as heat and stain resistant, making them perfect for the heavy use of a kitchen.
Concrete etching – Just like how people used to acid wash their jeans in the past for a bleached, streaky look, you can use an acid wash on your concrete. This is a type of etching that can really give the appearance of natural stone or granite in and around your home. The results are random, but will make your flooring even more unique.