Concrete Solutions: Top Tips for Successful Concrete Driveways
March 30th, 2015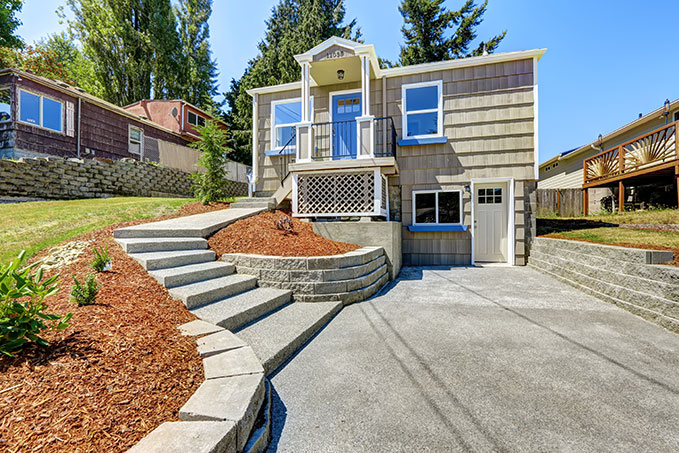 Have you ever wondered why concrete is such a popular choice for driveways? The answer is that in terms of versatility, durability and value for money, it's hard to beat.
Concrete is incredibly tough and long lasting. After the initial cost of installation, a concrete driveway can last several decades with only minimal maintenance. Concrete is also composed of renewable materials, making it more eco-friendly than some other materials. It also has a non-slip surface which helps prevent accidents, especially important for those with elderly relatives or small children.
Here are some top tips to consider when thinking of putting in, or upgrading, a concrete driveway.
Colour and texture
Choose a colour that best compliments your existing home, or the one you are about to build. Think about the landscape it is set in. If you live in the countryside, you might want to choose neutral browns or greens. If you live on or near the coast, blues or sand-coloured hues might be more appropriate. Whatever colour combinations you select, ensure that they are continued throughout any adjoining patio or walkway areas. This helps create a unified and integrated feel to the whole property.
For heritage-type homes, choose natural patterns that mimic stone or slate. If your house is more contemporary in style, you might want to think about a modern, smoother finish. We offer a collection of products that can be adapted to a wide and varied range of decorative styles. 
Size matters
Don't forget to factor in parking space when you're planning your driveway. Typically, you should allocate an area of at least 5.4m to 7.3m long, and a minimum of 0.9m wide for each vehicle, depending on what kind of car or truck you anticipate using it.
Remember to allow a margin around each parking space for access. People need be able to open their car door as well as get in and out without scratching the neighbouring vehicle.
If you are planning a longer driveway, think about incorporating a 'turnaround area'. It's never ideal for people to have to reverse backwards to exit a driveway, especially if it is adjacent to a busy road that may have oncoming traffic.
Don't overlook utilities
If you're installing a new driveway, make sure that you lay the necessary conduits for all the utilities and systems you may need now or in the future. These might include some or all of the following: mains water, electricity, irrigation, music, and cable television.
You could even think about laying an additional robust cylindrical tube, a bit like a PVC drainage pipe, 30-45 centimetres below the driveway surface to allow for additional cabling for future services, should they become required. If you do this, make sure that you cap the pipe to prevent it filling with debris during the installation.
Take a photograph of the position of any underground pipes before they are covered, as this will help you locate them more easily in the future should you need to access them.
Keep it legal
Before you even start designing a driveway, it's a good idea to check with your local 'Building and Safety' office to find out if there are any mandatory construction guidelines you need to follow.
You might also want to look over your property's CC&R's (covenants, codes and restrictions), as there may be agreements with neighbouring properties or local homeowners associations that you need to adhere to.
Access is another consideration. It may be necessary to ensure that fire engines/emergency vehicles can still reach your property via the driveway, particularly if it's a long one. They will also need space to turn around.
With a little bit of thought and planning, installing a smart, long lasting concrete driveway will enhance your house and may even increase its value.