How to Improve Your Home's Curb Appeal
April 7th, 2015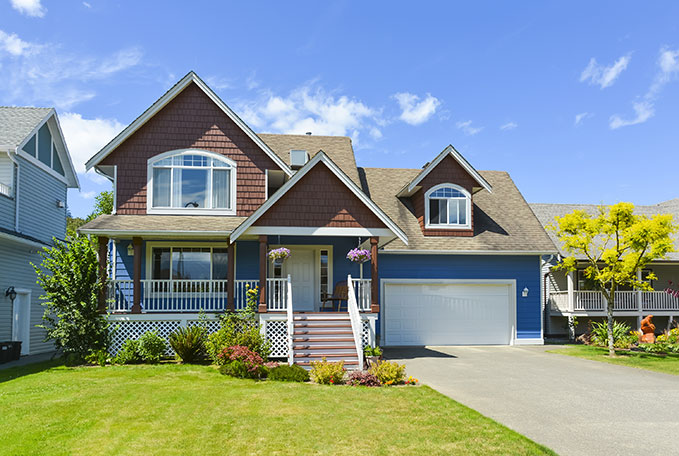 You never get a second chance to make a good first impression, and it's as true of your home as it is when you meet someone.
There's a reason why real estate agents talk about the importance of a house's 'curb appeal'. It's because the impression that a potential buyer gets when they pull up for a first viewing is often the one that makes the most lasting impression.
So if you're thinking of putting your house on the market, or just rejuvenating it, it's worth taking a step back and trying to see your home with fresh eyes, as if you were the stranger visiting it for the first time. This might help highlight areas that need attention and have been overlooked simply because you've grown so used to them. Now ask yourself, does the approach to your house look stunning, or a bit shabby?
Improvements don't need to cost a lot of money; often some re-tiling, resurfacing your concrete, and a lick of paint works wonders. Here are some top tips for quick ways to ensure your home makes an enduring first impression – in a good way!
A well-dressed driveway
We've all been there – pulled up at a house with a dirty, cracked driveway scattered with engine parts and broken children's toys. What's your reaction? Do you want to turn the car around immediately and drive away?
Few things indicate that a house has been loved and cared for more than a tidy, well-maintained driveway.
If your drive is looking like it's seen better days, there are plenty of ways of turning it around. If it's concrete, you might think about treating it with a decorative sealant material that provides an immaculate, durable 'skin' over the existing surface. We offer products in a wide range of colours which are designed to mimic different surfaces, including stone, tile, sandstone and slate.
This not only means you'll be able to 'freshen-up' your driveway, but can also help it to blend in – both in hue and texture – with your house and adjacent buildings. This helps give a smart and unified appearance to the entire property.
Look to your lawn, hedges, window boxes, and plant pots
Make sure that the lawn, hedges, window boxes and plant pots at the front of your house are in good order. This might mean mowing grass, trimming hedges, or re-planting flower beds/window boxes with fresh plants.
Try to stick to a simple colour scheme, perhaps even just different shades of greens to create a calm, traditional look. Window boxes and matching pots either side of the front door are a great way of drawing the eye to the house and integrating it with the garden. Choose a planting scheme that compliments the type of landscape that surrounds your home, and opt for hardy, low maintenance plants to ensure you're not continually watering and refilling the pots and boxes.
Decorate your front door and window frames
Giving your front door a fresh coat of paint is one of the most effective ways of increasing the appeal your house. It can either contrast or blend in with the main exterior colour of your home, depending on your personal preference. If in doubt, don't be too adventurous; just keep it bright and fresh looking. Ensure that your window frames don't let you down by giving them a fresh coat of paint, and keep the window panes sparkling clean with regular maintenance.
It's worth investing a little time and money to ensure that your house has the curb appeal it deserves. And you might find that this small investment reaps a reward when you come to sell.