Make Your Flooring Something Special with these Top Decorative Concrete Designs
June 3rd, 2014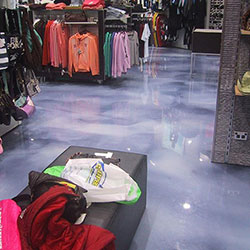 Have you thought much  about your flooring? What lays underfoot is one of the most obvious things a guest notices when they visit your home. When finished correctly, it can be the special touch that makes people stop and say wow.
Poured concrete is routinely used for sidewalks, pathways and even some roadways. Dense and durable, concrete bears heavy loads easily and stands up to all kinds of weather conditions. If it is poured correctly concrete has little chance of cracking and requires very little maintenance.

For these reasons, it makes sense to pour concrete in and around your home. But how do you take it to the next level? How do you create something incredible from a mixture of paste and aggregates? Consider getting decorative with the following designs:

Seeded Concrete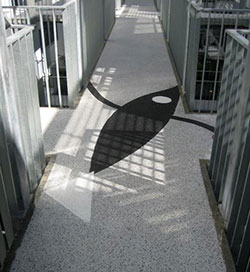 Seeded concrete looks amazing and creates a unique look with a decorative flair. Traditionally, seeding meant including pieces of rock in concrete, but these days you can seed your concrete with just about anything you like. For something really unique, try mixing pieces of glass, metal, silicon carbide and rocks.
The beauty of seeded concrete is that it provides a uniform look, but when looked at closely, each slab looks different. Even better is that it's an affordable way to create something special from your concrete.
Divided Concrete Slab
Divided concrete slab is a traditional and timeless look that works perfectly in a patio with lots going on. No matter your decor, no matter your furniture pieces, divided concrete works with everything.
Walkway Molds
A well-made walkway or garden path will not only handle years of use well but will enhance the natural landscape and complement a home's exterior features. By using walkway molds, you can ensure the shape and structure is correct and then add your personality. Walkway molds work wonders for small areas or for introducing a pop of something special.
Tinting and Acid Staining
Acid staining and tinting allows you to add dramatic detail and depth to concrete, turning otherwise plain concrete into something exciting and warm. Acid staining can give new life to old concrete, create the look of deep marble or granite or can simply add a splash of colour.

Polished concrete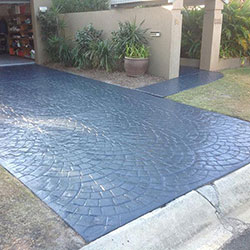 Polished concrete is concrete that has been treated with a chemical densifier and intensely ground to create a modern and sleek flooring option. Polished concrete is becoming more and more popular and with its incredible designs and hard wearing nature, it's little wonder.  Offering a range of finishes, polishing allows you to be truly creative with concrete or settle for a floor that's timeless and elegant.
Stamped Concrete
Stamped concrete (otherwise referred to as textured or imprinted concrete) is concrete that replicates stones such as slate and flagstone, tile, brick and even wood. Popular for driveways, courtyards or around the pool, stamped concrete is a great way to replicate high end materials at an affordable price.
Painted Concrete
Painting a concrete floor is a simple way to seal and improve the look of raw concrete. By painting, you have total freedom when it comes to design, allowing you to fill your floors with text, swirls, images or geometric shapes. Your only limit is your imagination.