The 10 Blogs Every DIYer Should Read When Using Concrete
August 14th, 2014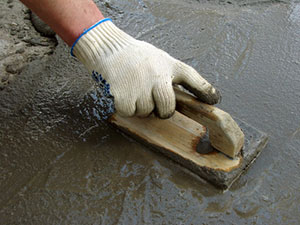 Concrete is an extremely versatile product and while it's used in big projects and buildings, it can also be used as part of a DIY project to inject life, personality and style into the home. When used for flooring, patios, driveways and walls, there are virtually no limitations for design. Concrete can be polished, acid-stained, blasted, stamped, coated in epoxy or left natural. It can be turned into street numbers, picture frames, candle holders, planters and lampshades. The options are endless.

Browse the internet and you will find a huge number of resources designed to inspire DIYers to take on concrete projects. Be it small or large, the ideas on show will set your creative mind into action and before you know it you'll be holding a mixing paddle and measuring your concrete mix. To get you started, here's our top ten blogs for DIY concrete:
With thousands of articles, photographs and a comprehensive directory of concrete contractors and product suppliers, the Concrete Network gets the number one spot for inspiring concrete ideas. The Concrete Network is all about concrete and covers topics such as decorative concrete, cleaning repair and maintenance, construction, green building and more. Their concrete photo gallery is easy to navigate and is filled with image after image of incredible design solutions from flooring and countertops through to walkways and outdoor fireplaces.
Any homeowner contemplating design will at some point need to consult Houzz, one of the world's leading home and living websites. With more than 100,000 concrete photos shared, you will never be short of inspiration and finding the right products has been made easy too. Be it bedroom, kitchen or outdoors, Houzz has your concreting needs covered and offers some great DIY tips.
Having written more than 300 articles based on concrete, the DIY Network makes working with concrete simple. With tips for measuring, installing, rolling, mixing and finishing, pouring your own concrete has never been easier.
Apartment Therapy offers advice for all aspects of home styling, from budget living and decor styles to dealing with small spaces and renovating tired furnishings. Apartment Therapy shares nearly 2,000 articles on concrete, from painted concrete tiles to concrete screens.
A DIY fan would be crazy not to stop by this handy website, with it offering advice on everything from lawn care to interior painting. Instructions are well broken down and easy to follow and their many concrete-based articles provide a realistic look at do-it-yourself concrete projects.
Australia's largest renovations forum is a great place to gather tips and product recommendations from fellow DIYers. Reply to posts, ask questions and learn from other people's mistakes before you start.
About.com offers tips on just about everything and its 'home' section offers plenty of advice on concreteing projects. The easy to navigate website allows you to search everything from masonry concrete blocks to finished concrete floors.
The Family Handyman offers advice through a range of print and digital resources and focuses on offering accurate and complete how-to instructions for improving the home and garden. The Family Handyman magazine is the oldest and largest DIY publication and the blog provides more than 100 videos and how-to guides.
Not only does renovate.com.au provide handy tips for the home renovator, it is Australia's favourite materials marketplace. Through its auction facility, you can bid on and buy building materials and products at a great price. Articles give plenty of inspiration and its 'Ask the Expert' forums can be a great help.
For both big and small jobs, Better Homes and Gardens has a plethora of tips to share. From concrete balls in the garden to concrete countertops, you'll find plenty of inspiration.