Top 23 Stamped Concrete Designs
October 11th, 2014
Stamped concrete is also referred to as textured concrete or imprinted concrete. It replicates other surfaces such as stone, tile, brick or even wood. It is commonly used to add an aesthetic dimension to driveways, courtyards, and a variety of other spaces. Here we will show you the top 23 applications of stamped concrete:

1. The path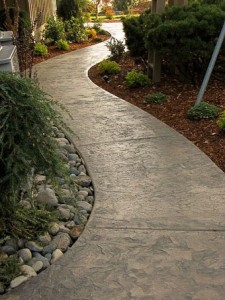 This path utilises a slate texture to provide a natural feel, complementing the pebbles and light foliage.
2. Poolside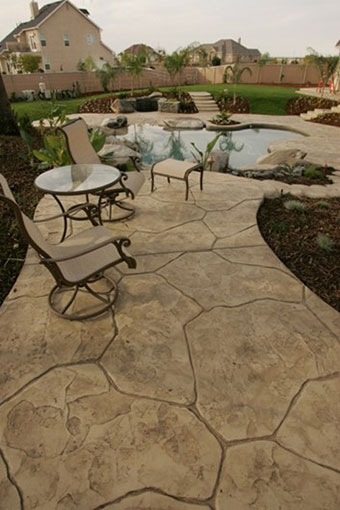 Stamped concrete has been used to create a natural texture and ambience around this pool area. The textures tie in nicely with the landscaped garden, and contribute to a tropical feel around the swimming pool.
3. Colour stamped patio and fire pit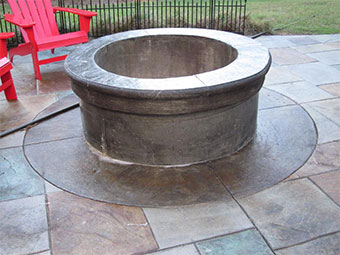 Colour stamped concrete adds another dimension to a patio area. This example provides a safe surface around an outdoor fire pit, while adding to the dramatic aesthetics of the area.
4. The concrete countertop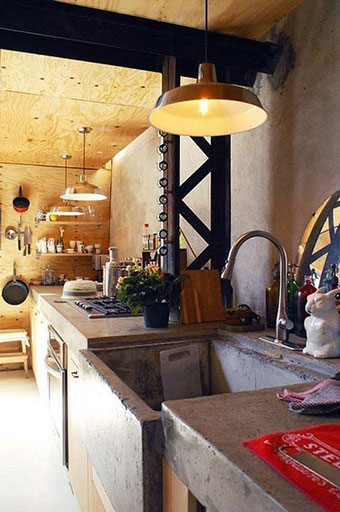 Using concrete for countertops provides a rustic feel to a kitchen, adding some industrial warmth to a cooking area. This is an advanced application, however, so not recommended for beginner DIYers.
5. Hand coloured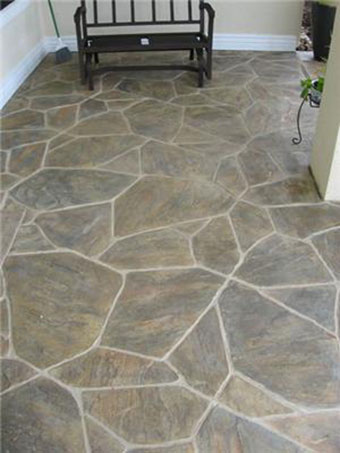 In this application, a flagstone pattern has been stamped into the concrete. The extra effect is due to the stones being individually hand coloured. This provides a natural stone effect, and makes it an interesting surface to look at.
6. The backyard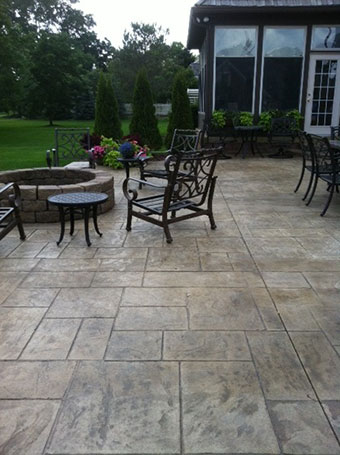 This use of stamped concrete has resulted in a beautiful outdoor landscape which blends into the natural environment. The use of a stone effect makes a world of difference when compared to a standard concrete surface.
7. The Entrance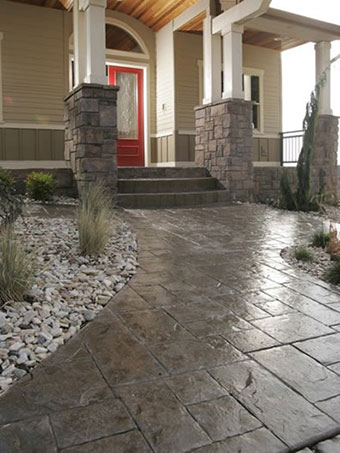 Using a stamped concrete to match the stone of the entrance provides a cohesive yet high-impact façade for the above home. Impress your neighbours and visitors with this polished look.
8. The driveway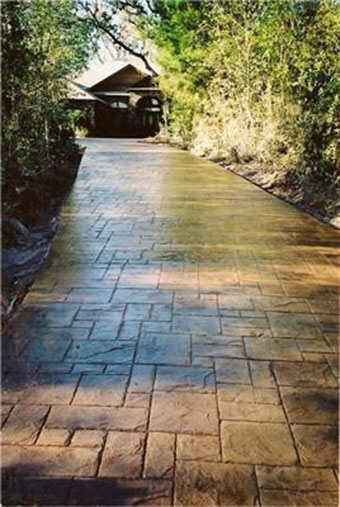 The full length of this driveway has been surfaced with stamped concrete in a paved look. This provides a striking surface to set off the property.
9.  The front porch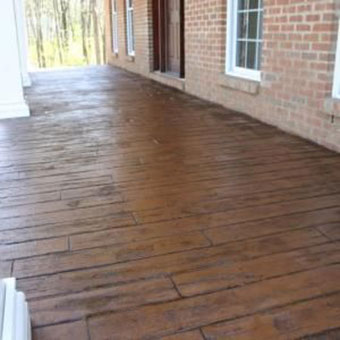 The above front porch area has a flush surface whilst retaining a country feel. Perfect for that brick home with a rural ambience.
10. The driveway and walkway combo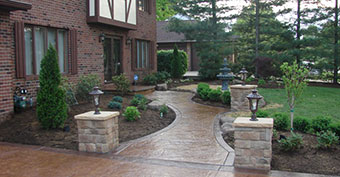 In this application, stamped concrete has been used to tie the driveway in with the walkway, resulting in a flowing front yard to complement the façade of the home. Bordering has been used to accentuate the walkway, leading to the front door.
11. The polished walkway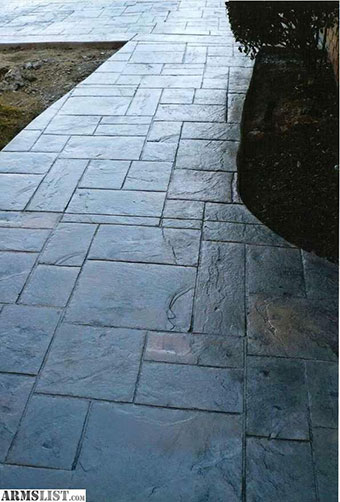 This walkway has a polished finish, which provides a neat but classy look. Perfect for the front of a home, as it adds to the visual appeal of a property.
12. Matching patio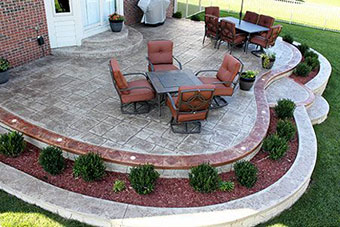 The above patio has had the two tone treatment to match the brick of the home and the outdoor furniture. This application of stamped concrete accentuates the landscaped shapes.
13. Brick effect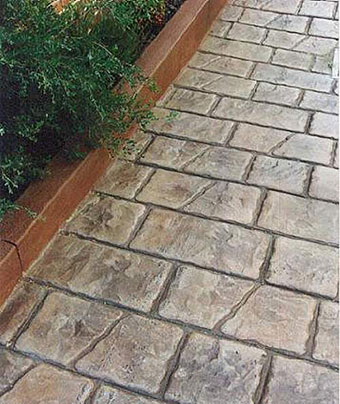 Stamped concrete can also be used to create a bricked or paved look, perfect for a walkway as above.
14. Wood effect
Stamped concrete is not just limited to stone effects. In this application, a wood effect has been created to provide a nice contrast to the lawn. The result is a deck that appears to be wood but constructed using durable concrete.
15. The slate and brick combo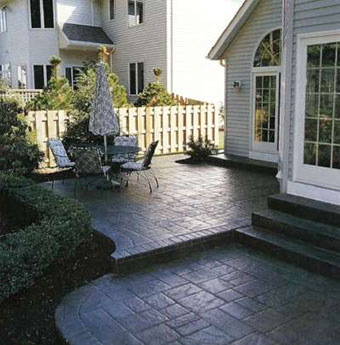 This design utilises two different textures. The majority of the patio is done using a slate effect concrete stamp, but the borders are done in a brick effect. The result is a nice clean separation between areas.
16. Squared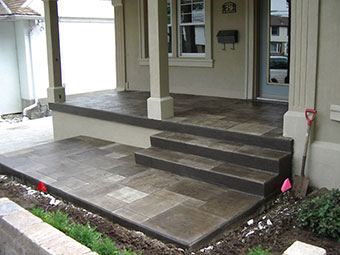 Shapes and, in this case, different sized squares are a great way to add another dimension to a stamped concrete surface. The varying colour gradients add a modern impression to the area.
17. Shapes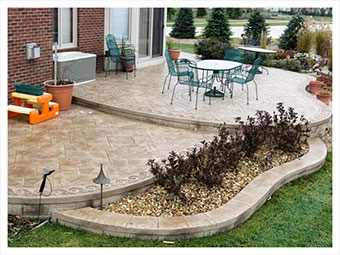 Combining shapes is a great way to create an interesting stamped concrete surface. In this example, squares are used for most of the surface, with bordering done in a wave effect.
18. Stained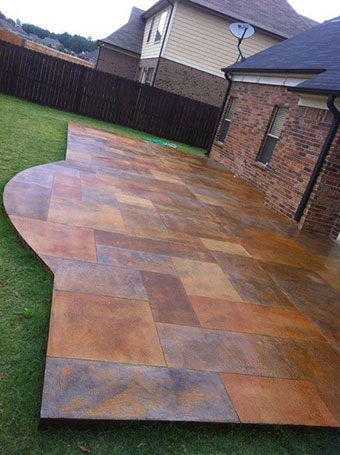 Staining is a technique that can add some very interesting texture to a concrete floor. In this example, the earthy colours provide a rustic feel, with some segments even yielding an iron-like appearance.
19. The stamped patio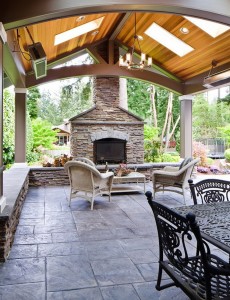 Stamped concrete is a popular choice for patios, whether they are covered or uncovered. In this application, the large squares contribute to a feeling of space, and tie in well with the fireplace and low wall border.
20. The wooden plank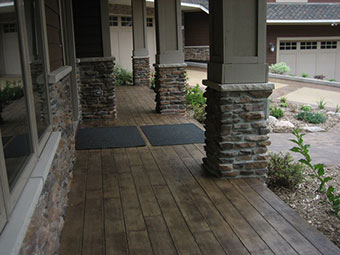 This innovative concept has utilised wooden planks and concrete to create a wooden deck visual, with the durability and hassle-free maintenance of concrete.
21. Pebble stone look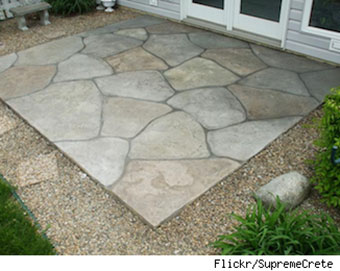 There are countless possibilities when it comes to stamped concrete. This application shows how natural, realistic, and three dimensional a pebble or stone surface can be using stamped concrete.
22. Wood stamped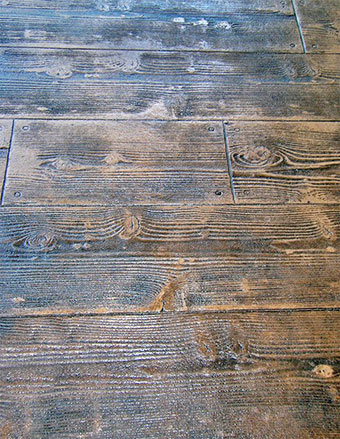 The look and feel of ageing wood provides a rustic yet homely feel to this surface. To think that this has been done using concrete is a true testament to the versatility of stamped concrete, and the skills of a good concreter.
23. Patio stones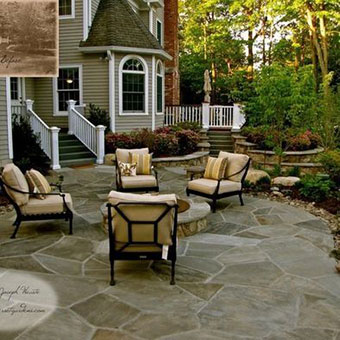 Patios are obviously a popular theme for stamped concrete applications, but this example shows how nicely the right choice of stamped concrete can tie an outdoor space in with its natural surroundings.
If you're thinking of getting a stamped concrete design done in your home, contact the experts at On-Crete today for their advice on what will work best with your home.