Uses for Epoxy Resin We Bet You Didn't Know About
November 14th, 2014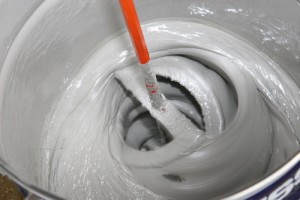 Epoxy resin has come a long way from its original formula. Today you can purchase epoxy adhesives in hardware store everywhere, and epoxy resin is now widely used for coatings on floors and as a binder for counter tops.
Today, there are many uses for epoxy resins by the average person as well. Here we'll run through some great uses for epoxy resins you can do yourself.

NB: When working with epoxy resin, it's always important to use rubber gloves at all times, work in a well ventilated room and – preferably – wear a mask.
Starting off with a project like making your own buttons is an excellent way to begin. All you need to do is pour the mixture of epoxy resin and polyamine hardener into button moulds. Add epoxy colour tints, glitter, or other items you want in the buttons, and move them around with a toothpick. Wait a minimum of 24 hours before removing them from the molds.
These are easy to make, and are wonderful hand-made gifts too! You can use any mold shape you like,  and small bowls in particular are great for this. Firstly, pour the resin and hardener mixture into the bowl. Using toothpicks, insert decorative items into the resin. Some common decorative items include like dried flowers and glitter.
Decorative resin cabinet handles can be really expensive, but now you can make your own by using a synthetic resin mixture, a long screw, and a contact lens container. Contact lens containers make great moulds for these. Simply pour the epoxy resin mixture into the container, and insert the metal screw into the middle. Decorate the resin with colour or other items, and wait once again for 24 hours before removing the cabinet handle from the mold.
Decorative napkin holders
Mix the resin in with some colourful acrylic paint, and pour into interesting molds of flowers, leaves or other shapes. Once these have hardened you can use use an adhesive to stick them to a napkin band and voila!, you have a beautiful and decorative napkin holder.
Create a personalised coffee table top full of memories
Using epoxy resin, you can make your own coffee table top complete with photos of your favourite holidays, family photos, and events. Once you have your table top, make sure that you seal the outside with tape so that the resin doesn't come out of the edges. Print out the images you want to include, and place them carefully on the table using an adhesive to secure them. Mix the epoxy resin up, and pour carefully and evenly over the images. You can then use a propane torch to remove bubbles in the surface before allowing the design to set.
Like the other projects mentioned above, making the resin jewellery simply involves mixing the epoxy resin, having a series of molds to use, and experimenting with paint, glitter, and other fun bits and pieces in the molds with the resin. You'll save a fortune by creating your own to create beautiful earrings, rings, and pendants.
As well as these at home uses, many people work with epoxy resin every day in the following fields:
Flooring– many workers who lay industrial floor coverings will be using liquid pastes, mortars, or paints containing epoxy resins.
Tiling and grouting professionals – Epoxy adhesives are used frequently by these tradespeople to bond tiles to the substrate. Many grouts also contain epoxies.
Painters– Many paints (especially those used on steel structures and bridges), contain epoxy resins in them.
Plumbers– Plumbers will often use leak-proof sealants that have epoxy resin in them.
There are so many uses for epoxy resin that you probably weren't aware of until now. And the uses for this versatile resin we've mentioned above are just a fraction of the ways in which it's used on a daily basis. From DIY projects in the home to commercial and industrial uses, there are so many different ways that epoxy resin can be utilised.