Find a product » Concrete Sealers Acrylic » Concrete Sealer SV28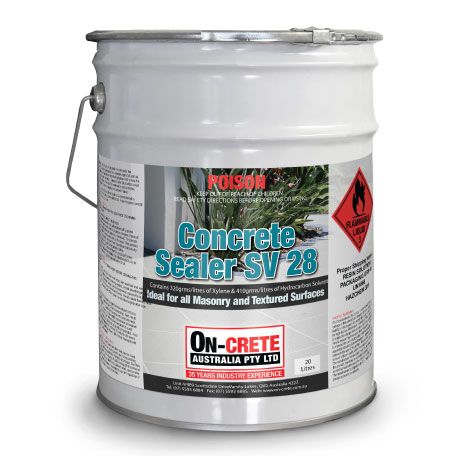 Concrete Sealer SV28
What is Concrete Sealer SV28?
Concrete Sealer SV28 is a high gloss concrete sealer that deliver excellent performance and protection against soiling and barbeque fats. It is commonly used for sealing exposed aggregate concrete. SV28 does not require a primer in colder and hot climates.
Package Size
20 litre re-sealed pail (covers approx 60m²)
Protect your concrete and masonry
Protect your concrete and masonry surfaces against the elements with Concrete Sealer SV28. For more information or to obtain a free quote, just fill in the form below or call the team at On-Crete today on 07 5593 6885.
Technical Information
Safety Data Sheet for Concrete Sealer SV28
Technical Data & Application Sheet - Concrete Sealer SV28
Get a free quote