Find a product » Concrete Densifiers » E-Seal Potassium Densifier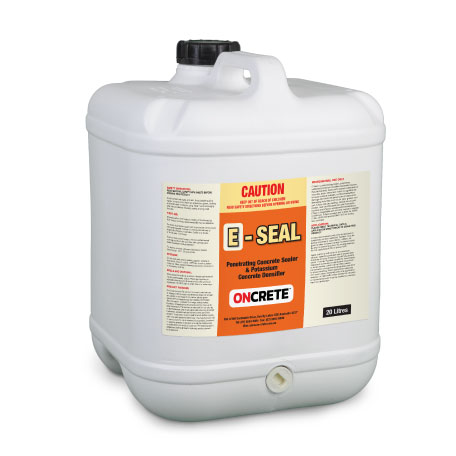 E-Seal Potassium Densifier
What is E-Seal Potassium Densifier?
E-SEAL is a penetrating solution that permanently fuses within porous substrates of concrete, brick, stone, and mortar to significantly increase surface strength, combat freeze/thaw damage, and limits penetration of stains and damaging impurities such as oil, gas, grease, and salt.
Why use E-Seal?
E-SEAL reduces dusting, retards mould and mildew, restricts efflorescence and hydrostatic moisture, and imparts waterproof characteristics. E-SEAL is breathable with minimal impact to traction coefficient. E-SEAL exceeds test criteria for ASTM C156, ASTM C309 and ASTM C1315 for curing new concrete.
How does E-Seal work
E-SEAL creates a cross-linked insoluble methyl-silicone internal membrane that will wear away only if the substrate itself wears away below sealer penetration. In addition to being a powerful exterior sealer, E-SEAL leaves no topical residue and is an ideal protective primer to enhance the appearance and lifespan of topical coatings and floor treatments.
Areas to use E-Seal
E-SEAL combats all concrete deterioration mechanisms specified by major concrete authorities:
Freeze/Thaw
Corrosion
Salt
Alkali Reaction
Abrasion
Sealing residential and commercial structures:
Roads, driveways, parking decks, sidewalks patios, basements.
Masonry products:
Pavers, block, clay brick, artificial brick, natural stone, artificial stone, mortar, stucco.
Architectural Features:
Countertops, mantels, furniture, ponds, fountains, and statues.
Horizontal or vertical applications.
Compatible with most glues or topical coatings.
Curing new concrete.
Package Size
20 Litre plastic cube
Technical Information
Technical Data & Application Sheet for E-Seal Potassium Densifier
Material Saftey Data Sheet for E-Seal Potassium Densifier
Flooring Systems that use E-Seal
There are no current flooring systems that use E-Seal
Get a free quote