Find a product » Concrete Resurfacing Products » Powder Tint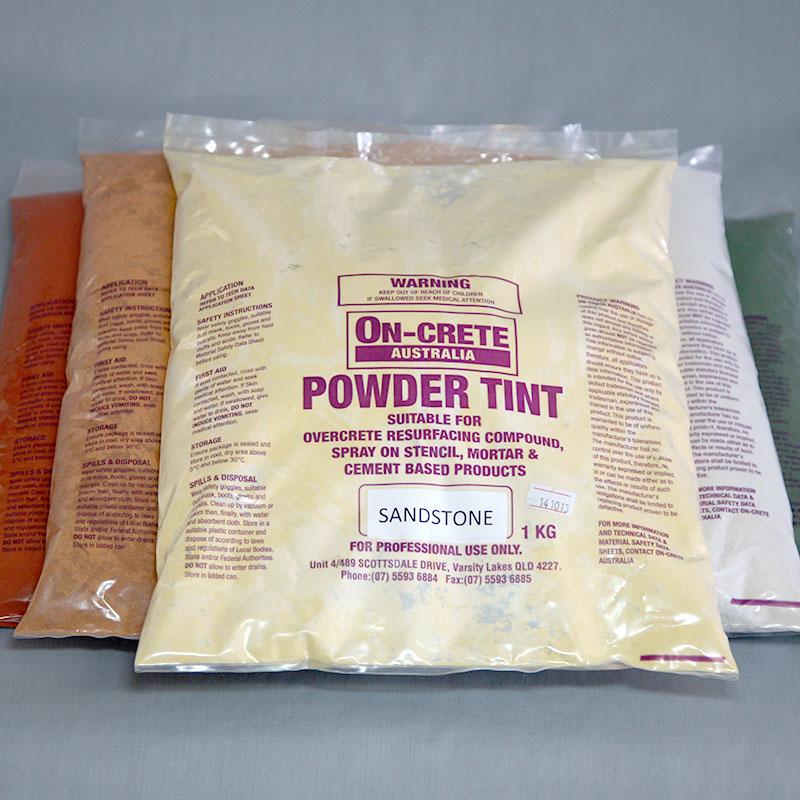 Powder Tint
What are Powder Tints?
Powder Colour Tints are made from 100% high-quality iron oxide, chrome oxide and titanium dioxide pigments. All of the powder tints are lightfast which means they will not fade from exposure to ultraviolet rays.
Where to use Powder Tints?
On-Crete's Powder Tints are mainly used in the Overcrete Resurfacing System. One bag of Powder Tint is usually added to one bag of Overcrete Resurfacing Compound when mixed with water and Cement Activator to achieve the desired colour.
Powder Tint's Colours
Apricot
Ash Grey
Bamboo
Bluegum
Brandy
Brick Red
Bronze
Blue Stone
Blue Stone Light
Buff
Caramel
Charcoal
Cinnamon
Coffee Brown
Copper
Cream
Cuban Coffee
Deep Ocean
French Grey
Gunmetal

Heritage Green
Kakadu
Latte
Mango
Merino
Mocca
Mushroom
Nutmeg
Oatmeal
Oyster
Salmon
Sandstone
Sandy Beige
Shale Grey
Sunshine
Terracotta
Walnut
Wheat
White
Yellow
Package Size
1 Kg plastic bag
Technical Information
Safety Data Sheet for Powder Tint
Technical Data & Application for Overcrete Resurfacing System
Overcrete Resurfacing System - Colour Chart
For more information on Overcrete Resurfacing System
Get a free quote