Find a product » Polyurethanes » SV35 Polyurethane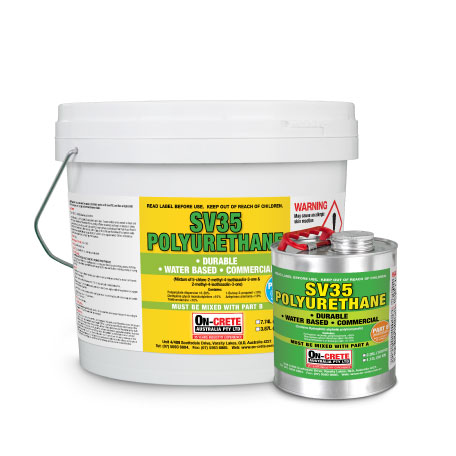 SV35 Polyurethane
What is SV35 Polyurethane?
SV35 is a two pack water based polyurethane clear topcoat utilizing the latest available technology. The coating incorporates 100% water based polyurethane technology offering superior toughness combined with superior anti-scratching and abrasion resistance. Designed to be used in coating applications to match solvent based polyurethane.
Areas to use SV35 Polyurethane
Floors including retail, domestic and commercial application. Typically used as a finish coat over epoxy coatings on concrete substrates. Suitable for medium to high trafficable pathways, driveways car parks.
Features
Easy to apply
Non-Yellowing clear finish
Low odour
Water Base
Interior / Exterior
Excellent Toughness
Durable
Good early hardness
Oil Resistant
Available Tinted
Technical Information
Safety Data Sheet for SV35 Polyurethane Part A
Safety Data Sheet for SV35 Polyurethane Part B
Technical Data & Application Sheet for SV35 Polyurethane
Get a free quote