Get the Industrial Look in Your Home Now
December 16th, 2014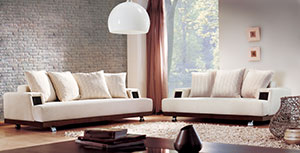 The industrial trend is one of the most popular interior design trends right now. Characterised by raw elements with a rough 'warehouse' look, the industrial trend is all about embracing matte surfaces, exposed beams, and creating a sense of incompletion in the design.
You'll often find that the central focus of industrially inspired spaces are high ceilings that expose their inner workings, and the display of items that are perhaps not intended to be visible in a design.

Stripped back surfaces are popular when it comes to industrial interiors, so forget carpeted floors and think more along the lines of polished concrete.
Are you loving this trend right now and want to incorporate some serious industrial elements to your home's decor? We've got a great list of tips to get you inspired.
Use unconventional items as everyday furniture pieces
Rustic, used, metal workbenches are a great way to add a touch of the industrial look to your home. For a stand out look, use a metal workbench as a coffee table in the centre of your living room. Retired wooden crates are wonderful to use as shelves. You can either stack them on top of one another, or mount them to the wall depending on their size.
Old lockers are wonderful to use as storage devices for all sorts of things. Just remember – the idea of buying an old piece of furniture like this is not to strip it back and repaint it, but retain the worn look. If the paint is peeling and the piece is a little bent and rusty, this just adds to the overall industrial look of the item.
Repurpose items
Get your creative juices flowing! When looking at different items, think about new and exciting ways they can be utilised in your home. Old ladders make great book shelves when mounted on the wall, and that old metal storage box could make the perfect side table in the living room.
Strip back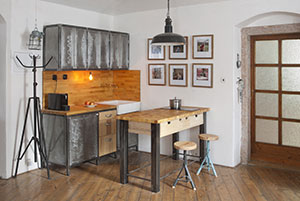 The industrial trend is all about appreciating surfaces in their raw, unaltered form. Because this is one of the central themes of the trend, keep decorating to a minimum, and embrace natural and organic surfaces instead.
Unexpected surfaces in the home
When it comes to the industrial trend, concrete floors are where it's at. More and more people are now having polished concrete floors in their home as a no-fuss flooring choice that ages extremely well. Concrete is also a popular choice for benchtops in the kitchen, too.
The other stand out material in the industrial style of design, apart from concrete and metal, is wood. Timber flooring, furniture, and benchtops complement metal and concrete surfaces well.
Lighting options
Look for lights that complement the industrial style. Lamps with repurposed metal pipes as their base look fantastic, and pendant lights in shades of copper, gold, and silver also work well to create an industrial look.
Industrial design colour palettes
The safest option is to use a fairly neutral colour palette, as greys, whites, and black tend to complement industrial surfaces beautifully. You can also add pops of colour, with bright shades of red and yellow injecting some personality into any room of the home. Do this easily by using soft furnishings, like cushions and throw rugs.
The industrial trend has become exceedingly popular as of late, and is showing no signs of fading anytime soon. The key with this trend is to not overdo it with too many items, but just a few key pieces here and there. Keep clutter and your colour palette to a minimum, and you should find that introducing industrial inspired pieces is a fun, fuss-free process.